gunnar.app - a 'dark social' network
The Concept
How do you reach a support base that is increasingly distracted by all-encompassing spectacle and mediated by unforgiving tech platforms? With this web app project, my goal was to create a social network for one person, leveraging the SMS service Twilio, Meta Metatags, and the Glitch programming platform.
Initially conceived in 2018 as a full fledged downloadable app, after working with the Swift environment I realized that a social network for one needs no official app. Especially given the limited amount of apps any consumer actually uses, and the regulatory hoops involved with publishing. This web app is entirely coded by myself and is hosted for free on Glitch.com.
Gunnar.app is backed by a SMS service for delivering the content. Subscribers to the text number would be segmented and sent multimedia messages weekly based on factors like location and age, ensuring that content is kept locally relevant.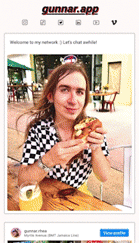 Chronological Feed
For the main page of gunnar.app, I decided to bring back a much missed feature on social media: the chronological feed. The site compiles content from my many platform profiles including Instagram, Twitter, and my portfolio site. Instagram and Twitter are embedded seamlessly for a feed that is platform agnostic and aesthetically integrated.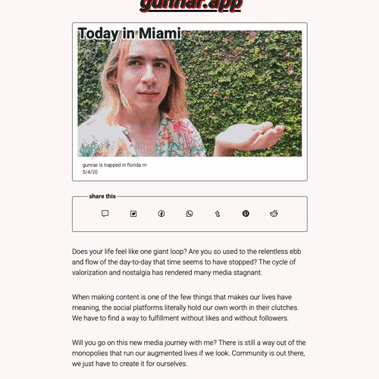 Design
When creating a new interactive brand entity, an essential step is creating differentiation from other market players. As a personal service, gunnar.app carries the marks of an individual. I based the base color off of a sketchbook page, and the line weights for the interface buttons and boxes are kept at a thin diameter resembling a pencil line. The effect is a site that is automatically distinguished from the harsh white of a multinational corporation, and carries little ornamentation to place the focus on content. The color accents are marker red and highlighter yellow.
Main content is carried in boxes reminiscent of an instant photograph in a skeuomorphic fashion to make users feel more familiar. One of my favorite features is metatags that turn every link into content in iMessage, so that hosted videos can be played directly from iMessage, while still having a web presence for desktop and mobile. Creating for 'dark social' means that this content can exist entirely as links sent between users, with no overarching tech power directly monetizing their data.
Conclusions
Since I developed gunnar.app in early 2020, the idea of a place to compile user content across platforms has gained traction. Many website builders now offer the option to show Instagram posts, tweets, and Youtube videos from the link in bio. It's nice to know that I had my finger on the zeitgeist with this project, even if it was never officially launched to the public.