Education
The Cooper Union, 2016–2020, New York, NY.
The Cooper Union is a private college that was founded in 1859 by the industrialist Peter Cooper. U.S. News & World Report ranks The Cooper Union as the #2 college in the northern region of the United States. Newsweek ranks Cooper as the "#1 Most Desirable Small School" and the "#7 Most Desirable School" overall.
Graduated: B.F.A. on May 27, 2020
DASH, 2012–2016, Miami, FL.
Design and Architecture Senior High, or 'DASH' is a Miami-Dade County Magnet School that provides a rigorous curriculum in art, design, and academics to students who are admitted through a portfolio based application process. Students at DASH graduate with 32 credits, exceeding the state required 24.
Graduated: Cum Laude on June 8, 2016
Exhibitions
Soft Powers - Solo Show - 41 Cooper Gallery - New York, NY - 2021
Installed a suspended 20-foot macramé tower with embedded electric lights.
Projected a 2-story video installation of aerial footage.
Sold home-grown monstera plants imported from Miami.
Never-before-seen Ms Pat portraits and botanical posters.
Y(art) Sale - Unbranded Brewery - Miami, FL - 2021
Displayed an installation of macramé Tower Prototypes I & II, suspended over an 'island' of tropical plants grown by the artist including monsteras, syngoniums, coleus and pothos.
End of Year Show - The Cooper Union - Online - 2020
Exhibited web design, alternate process photographs, and performance as part of Cooper Union's online EOYS exhibition.
BFA Show 2020 - Serving the People - Online - 2020
Exhibited the Stiltsville film alongside over 800 artists in this massive online exhibition put together by STP.

Business as Usual - 7 E Seventh St - New York, NY - 2019
Screened the short film "Toyotathon: Camrypocalypse" as part of an exhibition curated by Claire Kleinman and Alisa Petrosova.
Still Life - Gallery Exhibition - New York, NY - 2019
Showed two paintings and distributed ephemera alongside many talented artists.

Art Show - The Dekalb Palace - New York, NY - 2019
Displayed an untitled painting at a popular underground music venue.

End of Year Show - The Cooper Union - New York, NY - 2018
Exhibited a 2-channel video installation "Partition" alongside design and photo work.

Anthology Film Archives - Cooper Union Film Festival - 2017
Screened a short film as part of a film festival on April 29, 2017.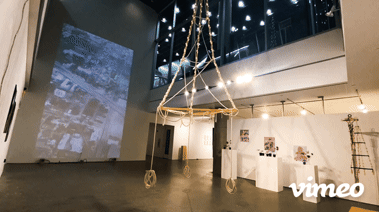 Publications
Future Visions - Adolescent Content - Winter 2021
My photography was featured in this annual photography book sent to Adolescent Content's corporate clients like Nike, Microsoft and Facebook.
Mentorship Program Yearbook - Out in Tech U - Fall 2021
Out in Tech featured my VR interaction design project 'Tombs of NY' in the seasonal yearbook for their LGBTQ+ tech mentorship program for young people.
Opinion Column - The Drunken Canal #10 - October 2021
The article 'Making Space for Male Thotwear' was printed in this monthly local newspaper based in Manhattan's Dime Square. I gave my best fashion advice to an unfortunately style-challenged demographic: men.
Print Centerfold - OUCH! Magazine No. 1 - October 2020
My photo essay 'Glamour is Ageless' was published in print and digital for this semi-monthly artist publication. The photos feature Ms Pat and I in subtropical bliss, the essay details Ms Pat's past accomplishments.
Union Journal - The Drawing Issue - September 2020
Concept sketches for 'F the MTA' website were digitally presented with other Cooper students as part of an anthology.
Pastel Serenity Zine, Volume 1 - September 2020
My essay "On Graduating into Global Crisis" was published alongside photographs from my commemorative puddle ceremony in cap and gown.
Photo Assist: Claudia Corujo
Print Editorial - ARTFAG! Magazine VOL. 1 - May 2020

Selections from my 2018 "Self Ideations" portrait series were published in print and digital alongside an interview in this 80 page zine for charity.
Cover Editorial - WAIF Magazine - February 14, 2020
Photo editorial on the front cover of WAIF Magazine's 'WAIF Loves You' issue, featuring designer brands alongside vintage jewelry pieces for this 97 page zine.
Photo Assist: Rafaella Fontenelle
Makeup Artist: Halle Benoit
Awards and Honors
Out in Tech Mentorship Program Graduate - 2021
Developed the game design project 'Tombs of NY' as part of this cohort.

Mentored by Zach Deocadiz, a VR UI/UX Designer at Vicarious Surgical, Inc.
Creative Grant Winner - 2021
Awarded by Adolescent Content for Photography.

For the photo essay "Ms Pat on Love and Life".
Bliss Pride Campaign - 2020
Video collaboration with Adolescent Content x Bliss x Trevor Project.
Awarded most creative advertisement in the campaign.
Irwin and Lillian Appel Endowment - 2020
Graciously donated by Kenneth Appel.
Vincent J. Mielcarek, Jr. Memorial Fund Prize - 2019
Received for outstanding academics and achievement in photography.
HackNYU - Honorable Mention - 2018
Accolade from J.P. Morgan Chase for work on a interface for disaster responders.
Work Experience


Art Director - Brutal Ceilings - 2020–2021
Oversaw all branding, creative development, and design initiatives for this Miami-based interior design startup.
Managed social media campaigns, earned media coverage, and customer relations workflows.
Designed showroom interiors and exteriors, planned ceiling layouts.
Developed guidelines for the human-machine manufacturing workflows of postmodern interior design products.
Creative - Adolescent Content - 2020–2021
Shot influencer campaigns, endorsed skincare products, and completed commissioned photo series for web publication.
Technical Assistant - Cooper Union IT Department - 2020
Trained a multitude of professors and faculty in the use of Zoom and Microsoft Teams video meeting software during and outside of their online studio class time
Assisted in technical issues and educated on proper GUI navigation of Mac OS
Monitor - The Paul Laux Digital Architecture Studio - 2020
Oversaw laser cutter operations, large format plotter queues, and 3D printer maintenance while keeping the studio tidy and adequately stocked with supplies
Production Assistant - The Eyeslicer - 2018
Facilitated the filming process for the Halloween special of this Indie TV show.
Art Handler - The Cooper Union - 2018
Dissassembled, packed, and moved artworks for transport.

Tour Guide - The Cooper Union - 2017
Extolled the virtues of Cooper to prospective applicants.

Sales Associate - Cherry Picked Vintage Market - 2016
Sold antique items while assuring the customer's satisfaction.

Makerspace Intern - Moonlighter Lounge - 2015
Oversaw daily operation of a laser cutter, CNC mill, and 3D printers.

Managed complex fabrication projects for clients.

Camp Assistant - Art Center South Florida - 2014
Taught art to children through various activities in a classroom setting.
Performances
Press F for The Glove - The Glove - August 1, 2019
Became a Camry as part of a somewhat haunting video performance with vocals and theremin.
TRYOUTS 2 - Club 444 - July 23, 2019.
Intensive 20 minute video slideshow performance on the spectacle, commodities, and cuteness while playing a digital theremin.
Skills
Adobe Software
Certified in Photoshop, skilled in After Effects, Premiere Pro, Illustrator, InDesign, Lightroom, and XD.
Design Expertise
Nearly a decade of experience with web and print design, branding, front-end development, book and icon design.
Photography
Many licensed editorial works of analog & digital photography. Trained in studio portrait lighting, darkroom, and retouching.
Videography
Very skilled in precise post-production editing in Premiere. Compelling motion graphics for title cards and animations.
Coding Languages
Versatile HTML5 and CSS for front-end development. Can prototype apps in Swift, program an Arduino, and put together responsive Javascript using Node.js.
Interactive Design Platforms
Figma, Firebase, Glitch, Github, Shopify, Twilio, Sketch
Remote Work Programs
Zoom, Teams, Slack, Google Hangouts, Facetime, Skype, Discord
3D Programs
Maya, Blender, Sculptris, Houdini, Sketchup, Unity
2D Programs
Capture One, Affinity Photo, Powerpoint, Word, Excel